AdaptAbilities Fun-raising Dinner
On April 26, 2017, Preferred Client Services had the honor to sponsor the desert for the fun-raising dinner at the Chateau Lacombe Ballroom and will continue to support AdaptAbilities programs by sponsoring the summer camp for one child.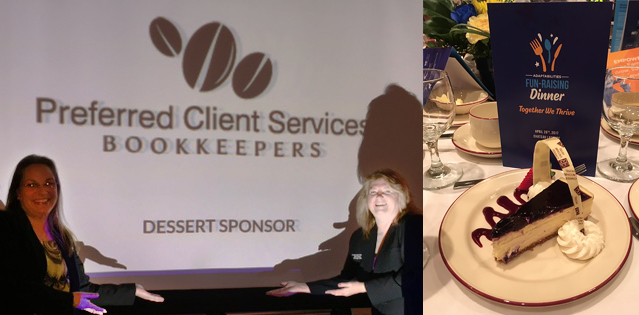 AdaptAbilities is a not-for-profit organization that helps individuals with special needs and their families to cope with daily life challenges. Through programs and services for both children and adults, AdaptAbilities has supported over 1,500 individuals and families in the Edmonton area, for over ten years.
Their unique programs mitigate some gaps in the system and their focus is on guiding the "individuals to develop valuable life skills and discover personal talents so they can build the life they desire in an inclusive environment."
One of the AdaptAbilities most cherished programs is Hearts In Action Summer Camp that offers a fun and meaningful experience for children, youth and young adults with special needs. At these activities, "campers experience new adventures and make friends while being supported with daily routines."
It is wonderful to see the good that organizations like Adaptabilities bring to our community and society. Please visit AdaptAbilities website to learn how you can help too.