Connecting with professionals at EOCC event
On May 5th, the event "Igniting Customer Interaction" organized by Event Organizing Corporation of Canada (EOCC), at the Art Gallery of Alberta in Edmonton brought together more than 250 business professionals to share ideas on the importance of excellent customer service. We all know that clients will come back when they have a great customer experience. Providing excellent customer service will please your clients and impact your bottom line.
A 40-minute panel discussion featured the notable speakers Mike Mack, President of X5 Management, Bruce Kirkland, Dealer Principal of Lexus of Edmonton, Vitaliy Milentyev, President of Global Wealth Builders Ltd. and Tema Frank, Author of PeopleShock: The Path To Profits When Customers Rule.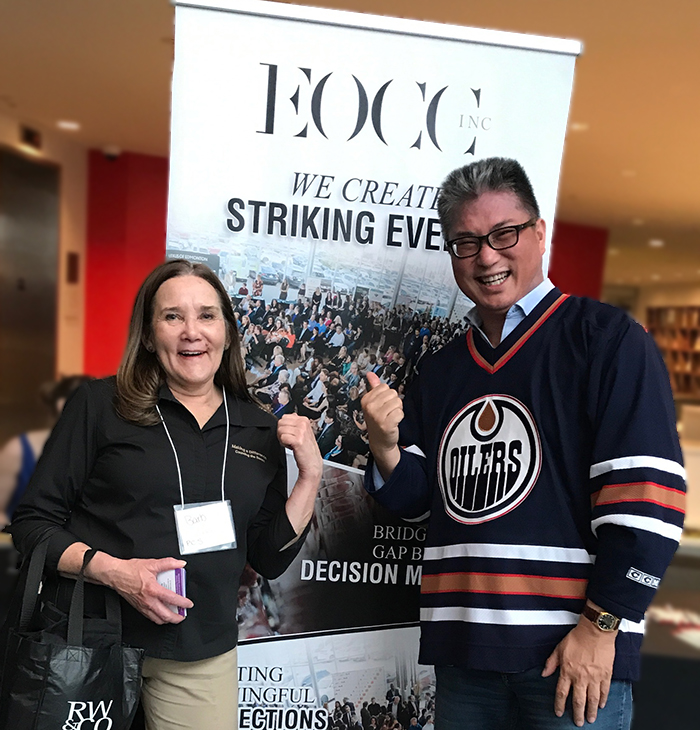 [Barbara Steckly from Preferred Client Services Group and Hubert Lau from Ekota Central, an IT services provider in Edmonton.]
Because the event happened during a playoff game between the Oilers and the Ducks, hockey fans had the opportunity to follow the game that was streamed at the beautiful event venue, and enjoy the work of the local artist Sofia Jogola.
Thank you, EOCC, for providing such a fantastic networking opportunity!